To turn off the music- please right- click on the note.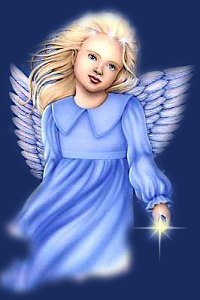 Jeanne- I've only known you for a few months- we sent some e- mails back and forth, but mainly we communicated through graphgroup. I always meant to tell you how far you had come in WebPage Design and how nice your WebSite looked. I also wanted to tell you how much I admired you for doing what you always wanted to do-
learn massage therapy.

I can picture you in Heaven- with all the angels lining up for their massages- with 1 pound boxes of Godiva Chocolates as payment for their massages.
It took me a long time to find just the right graphic for your page. I used this one- because the angel is holding a star in her hand- the star is a PSP tube- and you can make stars up in heaven to your heart's content.

I feel that you know how much I admired you-
even though I never told you!

Jeanne- we miss you!
You will live on in our thoughts!

Gentle Hugs, Char